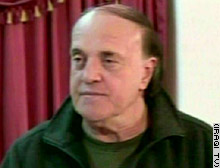 The aging press corps came together, one more time, on the eve of the day the Vietnam War ended 35 years ago — April 30, 1975 — when communist North Vietnamese forces drove tanks through the former U.S.-backed capital of South Vietnam, smashing through the Presidential Palace gates. It was a dramatic end to a long, bloody war that killed an estimated 3 million Vietnamese and some 58,000 Americans. The journalists also gathered Friday morning to watch Vietnam's formal commemoration of Liberation Day, as it is known here, taking in a parade down the former Reunification Boulevard that featured tank replicas and goose-stepping soldiers in white uniforms. Some 50,000 party cadres, army veterans and laborers gathered for the spectacle, many carrying red and gold Vietnamese flags and portraits of Ho Chi Minh, the father of Vietnam's revolution.
"This was the first foreign war the U.S. ever fought where the press challenged government thinking, challenged the decisions of generals, challenged the political decisions the war was based on," said former CNN correspondent Peter Arnett, (pictured) who won a Pulitzer Prize for his Vietnam coverage in 1966 while working for The Associated Press.
Clcki on the title for the full story.